Make his own bread
Produce its own bread! Everyone dreams to have always a good bread in the morning or during a meal. Living in a hostel in New Zealand, I had the pleasure to learn a lot of vegetarian and vegan recipes. Here is a to produce his own bread.
Above all, you must choose precisely its ingredients. Indeed, you can not use any flour. It is necessary to know what one wants to produce before you put the hands in the dough.
As usual, this recipe is the base. You can then add and improve it to your desires.
Choose his flour
To choose his bread flour, it is more than advice to take a flour from T65. The higher the number the higher more flour will provide a full loaf. So if you bought a T55 flour that will be first prize for white (and not very good) bread flour.
I suggest more a T110 after everyone desires and based on the bread that you wanted to do. In addition to make bread, it is necessary to have a flour with gluten, called bread flour. I advise you to start to make your bread wheat flour, spelt and rye. The other flours, to mix them with a schedulable flour or add gluten.
Attention, it is possible that food moths wish to participate in the meal, they will go into the flour. To avoid this, you can either put the flour in the refrigerator, or put the Bay or use a repellent to scare them away.
Ingredients:
Good for the amount we does not in gram, but Cup of forma usual 🙂
-Flour 5 cups
-Sugar 1/2 cup
-Salt 1 tablespoon of salt
-Baker 1 & 1/2 tablespoons yeast
-Oil 2 cups
-Additional ingredients according to your desires
Recipe
1) pour 1 & 1/2 cups of warm water in a bowl
2) put 1/2 cup of sugar
3) put 1 & 1/2 teaspoons of Baker's yeast.
(4) let to ferment at room temperature for 15 minutes. Organic foam on top you need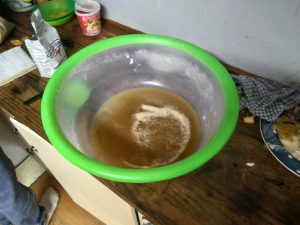 (5) add the flour, oil and salt.
6) knead by hand. It is necessary that the dough becomes elastic. It to any split or tear the dough. Otherwise you'll have a bread crumb when cooking. He need to knead it and turn it into the bowl. If the dough falls apart, add oil or water. If it is too sticky, add a little flour.
6 1 / 2) add the ingredients you want, raisins, nuts, etc…
(7) you get a ball of dough.
(8) let rest in a place at room temperature with a cloth top for an hour.
(9) set the oven to preheat to 240 ° C. Pour a glass of water to have an oven with steam
(10) collect the dough gently, taking care not to tear. Grate below to avoid tearing your dough.
(11) put there in a dish in floured (or with baking paper)
(12) form of bias cuts along your bread
(13) place the bread in the oven and cook for 30 minutes at 160 ° c.
And voila, you have your first bread. Always check the cooking and on the lower part. Sometimes air bread cooked on top, but underneath it is not yet cooked. Return it if necessary.
Good appetite!
I suggest also to learn the chemistry of bread, how and why the bread swells that will allow you to improve your recipes. There are many websites and books on top. However, I advise you to go directly to a Baker or follow an initiation like I did in the dream of the Aboriginal to have all the information for an organic bread 😉